As you may have noticed, the PrintNC has "print" in its name. It's because there are several important parts that can be 3d printed.
This page will describe what parts have to be printed, and how.
¶ Important note for 2010 Ballscrews on X and/or Y axis
The PrintNC CAD file has the BF15, BK15 mounts and roller plates for X and Y axis for SFU2010 ballscrews and supports in the 2010 Modifications folder.
If you're using a SFU2010 ballscrew on X or both X and Y, use these files instead for the associated axis.

This section assumes that you have already downloaded the Fusion 360 model and updated the parameters.
It's time to export the actual printable parts.
A PrintNC user created a small Python script used in Fusion 360 to extract all at once all the printed parts as STL.
Here's a nice video explains how to do it.
The Python script is located here.
You can click on every single parts and export them as an STL. Then you can load the STL in your favorite slicer.
This video will explain how to do it
This method is an extension of the first one : you can export an STL and immediately load it in your slicer.
All 3d printed parts can be printed using PETG or PLA. However, PLA is more rigid than PETG, so you should try to create parts using PLA.
The only exceptions are the motor mounts, that should be printed in PETG, which has a higher temperature tolerance.
Good layer adhesion and high strength are the primary factors in determining your settings. There is no significant bridging or supports required on any parts. As a result, you can print using higher nozzle temperatures to enhance layer strength.
The recommendation below assume a 0.4mm nozzle. If you print using a 0.6 mm nozzle, you can switch to 3 or 2 perimeters (from 4 and 3 perimeters respectively).
Parts
Infill
Walls / Perimeters
QTY
Notes
Part Filenames
Assembly Tools
20%
3
1 x each
PLA preferred as it is less likely to crack when tapping center points
Ballscrew Face Plates Front
60%
4
3
Y axis ballscrew faceplate doesn't include the axis name in the filename.

X Axis Front Ball Screw Faceplate.stl

Ballscrew Faceplate Front.stl

Ballscrew Face Plates Rear
60%
4
3
Y axis ballscrew faceplate doesn't include the axis name in the filename.
X Axis Rear Ball Screw Faceplate.stl
Ballscrew Faceplate Rear.stl
BK12 Mounts
60%
4
3
X Axis BK12 Mount.stl
Y Axis BK12 Mount.stl
BF12 Mounts
60%
4
3
X Axis BF12 Mount.stl
Y Axis BF12 Mount.stl
Nema 23 Mount
40%
3
3
Use PETG for better thermal resistance
X Axis Nema23 Mount.stl
Y Axis Nema 23 Motor Mount.stl

Z Motor Mount
40%
3
1

Use PETG for better thermal resistance

Z axis motor mount filename isn't a typo, it's the name given by the export script.

Z Axis Mount Mount.stl
Ballscrew nut block
40%
3
1
Ball Screw Nut Block.stl
Spindle tram block
40%
3
2
Spindle Tram Blocks.stl
Tram bar
40%
3
1
Tram Bar.stl
After the STL extraction, you'll then be able to start printing the parts.
The assembly tools will be used to build the PrintNC. There are currently 13 parts.
The table below shows each one of them, with the correct bed orientation.
1 - Y frame marker

2 - X frame marker

3 - Y mid frame marker

4 - Y Roller Lower

5 - Y Roller Upper

6 - X gantry

6a - Gantry Left

7 - X Roller Upper & Lower

8 - Z Angle Lower

9 - Z Angle Front (1)

10 - X Roller Front

centre line marker

Rail clip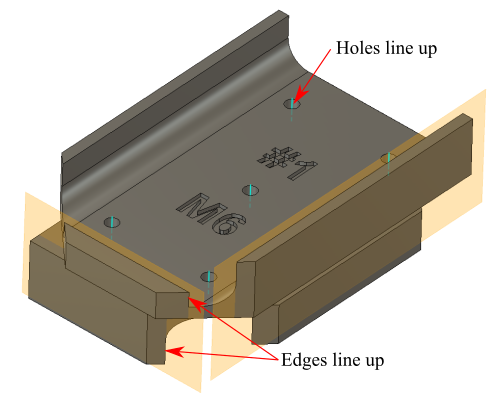 After printing the assembly tools, it is a good idea to check the parts before continuing.
First, check if #1 and #2 fit snugly on the steel beam, otherwise you have to go back and edit the parameters steelLong, steelShort or steelRadius.
Confirm that the the holes line up wherever the holes belong to the same connection.
This is between:
#1 y frame and #2 x frame
#2 x frame and #3 mid frame
#4 Y Roller Lower and the linear rail carriage
#5 roller upper and #6/#6a gantry guides
#7 X Roller Upper & Lower and the linear rail carriage
#8 - Z Angle Lower and the linear rail carriage
Those parts will be used to build your PrintNC.
There are currently 10 parts. The table below shows each of them, with their correct bed orientations.
BK12 mount

BF12 mount

Nema23 motor mount

Front ballscrew faceplate

Rear ballscrew faceplate

Spindle tram block

Ballscrew nut block

Tram bar

Z axis motor mount

Z sensor endcap
3D printed parts that are not required for the PrintNC assembly but that can be useful are located in this page.