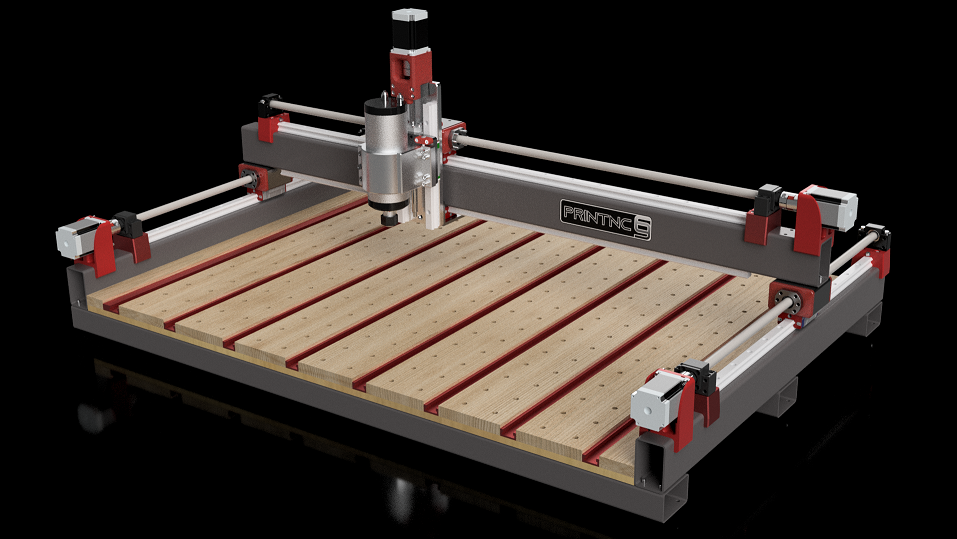 Watch a video of a 360 Degree view here. Or download/open the 3D model from here. Note: Be sure to check the Discord #Announcements for latest bugfixes until the F3D file can be updated from this link.
The PrintNC is a high performance, DIY CNC router. It's based on a steel frame to ensure rigidity and uses 3D printed parts to make assembly easy.
The PrintNC project is in active development and community participation is highly encouraged! You can live chat on the PrintNC Discord or head to r/printnc and ask there. Answers are fast and the community is quickly growing!
Some additional information can also be found on the official website: https://threedesign.store.
Join the Discord server, where the community is most active. It's currently the best resource to help answer your questions and guide you in the right direction, and the ideal place to contribute your own knowledge and skills.
You wonder if this is the right machine for you? Check the performance page!
Understand that this is a rapidly-evolving project. This wiki is the most current source of documentation. Documentation from github and and elsewhere is obsolete. Dozens of people have built a PrintNC - not hundreds or thousands. PrintNC relies on 3D printed parts printed specifically for the tubing you obtain locally.
Read the FAQ and browse this wiki. Please note that like everything else in this project, it's a work-in-progress.
Check out the Notion gallery which highlights current build logs in addition to completed machines.
When you are ready, start by reading the planning page.
The PrintNC is completely open-source and operates under the CC BY 4.0 license. See the LICENSE file for more information.