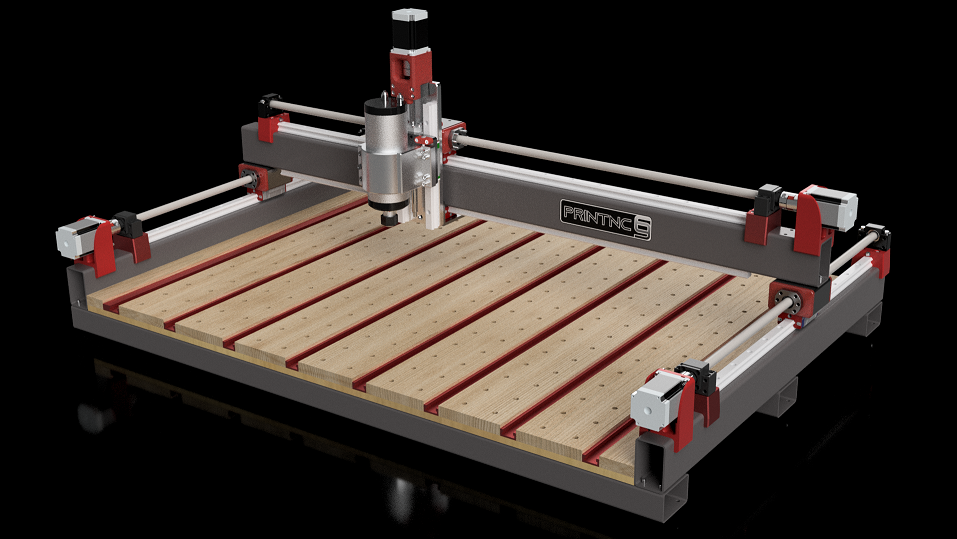 360 Degree view here
The PrintNC is a high performance, DIY CNC router. It's based on a steel frame to ensure rigidity and uses 3D printed parts to make assembly easy.
The PrintNC project is in active development and community participation is highly encouraged! You can live chat on the PrintNC Discord or head to r/printnc and ask there. Answers are fast and the community is quickly growing!
Some additional information can also be found on the official website: https://threedesign.store.
Join the Discord server, where the community is most active. It's currently the best resource to help answer your questions and guide you in the right direction, and the ideal place to contribute your own knowledge and skills.
Understand that this is a rapidly-evolving project. This wiki is the most current source of documentation. Documentation from github and and elsewhere is obsolete. Dozens of people have built a PrintNC - not hundreds or thousands. PrintNC relies on 3D printed parts printed specifically for the tubing you obtain locally.
Read the FAQ and browse this wiki. Please note that like everything else in this project, it's a work-in-progress.
Check out the Notion gallery which highlights current build logs in addition to completed machines.
Determine the work area that is required. The standard-build printNC has a cutting area of 1000 mm x 600 mm, but you can customize your build to your needs using the PrintNC Calculator: (Metric / Imperial)
Download and inspect the latest Fusion 360 assembly files. You can use this to input your build parameters and generate the necessary files for the 3D-printed components, as well as enter your frame dimensions to preview what your machine will look like.
Collect the remaining materials. See the BOM for a list of necessary parts.
Assemble! There's an excellent introductory guide to get you started.
Frequently Asked Questions (FAQ) can be found at the bottom of most top level Wiki pages, including this one!
The PrintNC is completely open-source and operates under the CC BY 4.0 license. See the LICENSE file for more information.
Yes. PrintNC was designed in Australia but the model speaks both metric and imperial and can adjust for the standard steel sizes typically found around the world. However, before you rely on the model for your measurements or purchase decisions, please ensure that you have set the relevant steel sizes and the model has parametrically adjusted itself so it is correct. If you are having trouble determining how to do this, join us over on Discord and someone will help you out.
Also, the project is very fast moving and innovative improvements are being contributed all the time, so before you pull the trigger on a parts order, we recommend you poke your head in to Discord and say hello and confirm you have the latest design and build files to make your life easier.
No, your model is correct. The actual front of the machine is on the back viewport in Fusion due to historical reasons and Fusion makes it difficult to resolve this. It does not otherwise affect the use of the model.
As of version 3 of the model, the model only consists of one File.
You can set your Base Parameters by using the Modify → Fx Change Parameters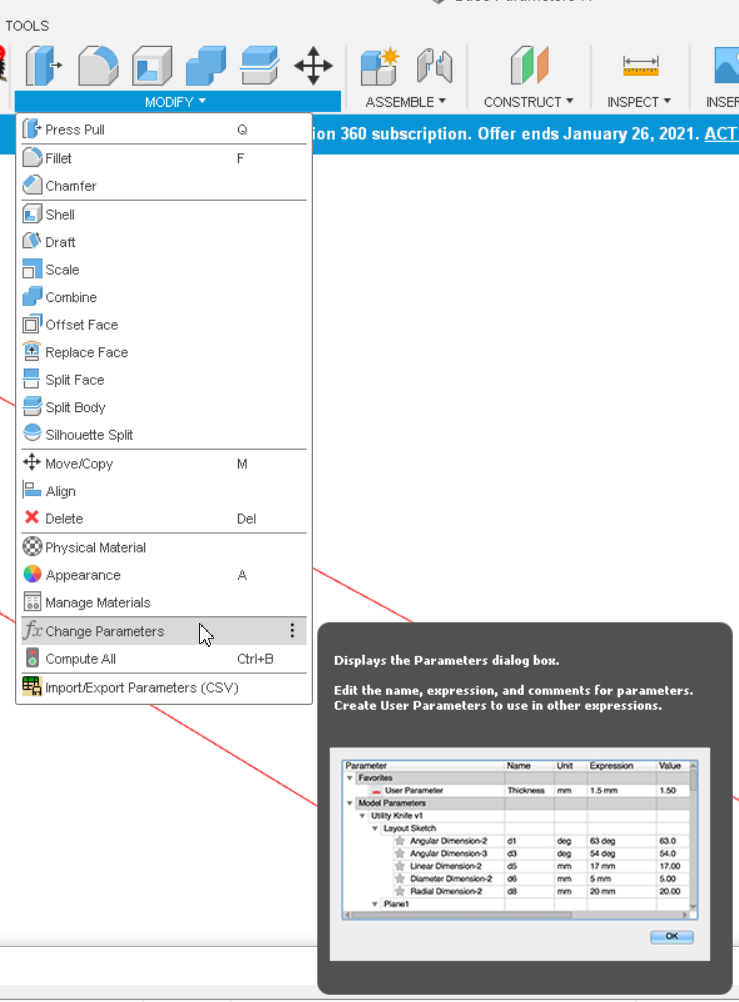 This is the correct location to set your frameX and frameY, as well as your steelTall, steelShort, steelThick, steelRadius etc.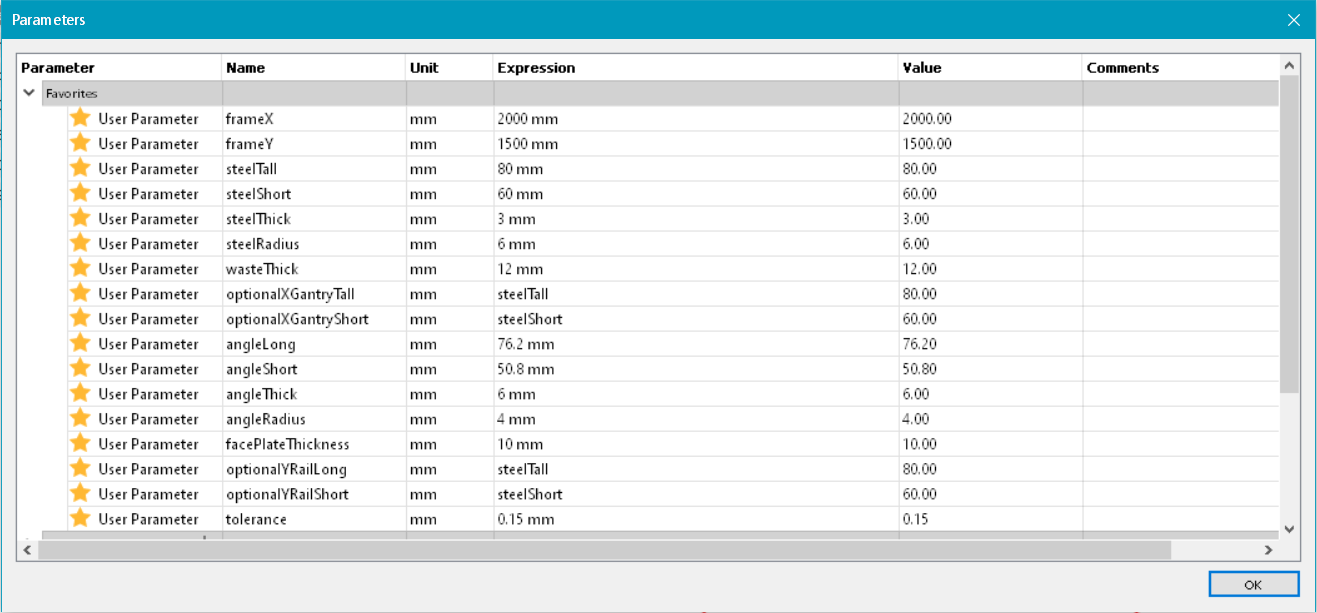 Then save your parameters file and open the main model or one of the sub components. You will have some yellow triangle warnings on some parts and also up in the title bar will be a yellow triangle. If you right click on that it will give you the option to resolve/update the parameter references. Doing this will cause the parametric model to adjust to the parameters you set. Depending on the speed of your PC, it may take a moment or two.
¶ Q - Can I remove the Base Parameters and just edit the parameters inside the CNC file instead?
Yes! If you'd rather just have direct access to the parameters, you can easily remove the link to Base Parameters external file.
Important: Externally linked files will still use the base parameters file, so you'll have to change your BF/BK blocks, Stepper Motor Mounts and Roller Plates separately.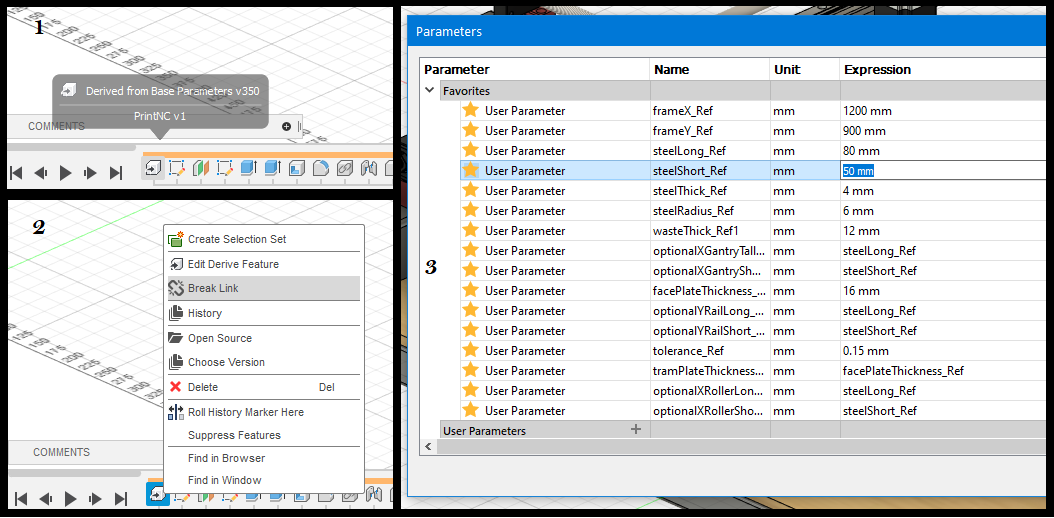 ¶ Q – What do BF and BK stand for?
You don't need to know much about them to learn about or build the project, but you will see them referenced so here are a few words:
@logan: BF is for "bearing, floating", it only has a single bearing and it's not secured. just a press-fit into the block.
[You find the BF bearings at the far end of the Y axis beams when you are facing the front of the machine, the front being where the motors are in the PrintNC design. The BF bearings support one end of the ballscrews that is used as the drive system in the PrintNC]
The BK bearings are the ones near the motors at the front of the machine. Typically there's 2 bearings in the BK block, then two spacers, one on either side of the bearing, and the retaining nut.
¶ Q - Hey guys new to this project and discord in general and I read all I could find on the website but my 2 main questions are what would a normal build usually cost and about how long would it take. I know that is a loaded question but just generally. Is there a better place to find that info if not here?
@logan: $1500-2000 USD probably, depending on size and electronics. Time to build- 2 full weekends or 6+ months, depending on your skills and dedication. Get steel locally. Shipping will double or triple the cost.
--
kotlikm: Picked up my steel 12/5, all my parts from Ali store were delivered 12/29. So two months, but a lot of that was time waiting for my parts to arrive. I'd say 6 weeks of mostly weekend work during my son's 2 hour naps.
Project founder @hoges kindly did a demo for me showing full depth cuts in 12mm plywood (happened to be 2x6mm stacked) at 140 ipm (3500mm/min) with a 6mm (¼") upcut bit.
@hoges said that should not be a problem, see plywood video at 12mm DOC.
Good. Very good. On par with lower/moderate spec commercial machines.
Here are some other videos of aluminum, steel and stainless steel milling on PrintNC.
Logan: It's about 4" (~100mm) after wasteboard, more or less. Basically steel narrow + steel wide - angle thick - wasteboard thick is your Z clearance, Steel to aluminum angle is ~ 4.75" so subtract whatever your bed material is from that.
@hoges said you could probably run up to 10,000 mm/min but said he runs his at 6,000 mm/min and finds that scary enough. Not a lot of time to react if you make a mistake in an instruction.
M0jo was able to tweak his machine up to 18m/min using a parallel port breakout board.
Frame area = The footprint of the steel frame in X and Y directions
Wasteboard area = The wasteboard between the Y rails and from the X supports at the front to the edge of the X supports at the rear.
Work area = The physical cutting area reachable by the center of the cutting bit in the spindle/router.
Silhouette area = Frame size X + 4" (100mm) by Frame size Y + 2" (50mm) [accounts for cable chains etc. that may extend beyond frame]
Dimensions for enclosure: Enclosure should be 8" wider (200mm) and 4" (100mm) deeper than the frame.
Logan: Discord uses asterix pairs for italics like this
You can use tripe ` marks to begin and end a raw text block.