You have stumbled across the PrintNC and fancy the idea of building one. But is it the right machine for you? This depends mainly on your requirements but also your capabilities, and finances. First, here are some videos showing the capabilities of the PrintNC:
Overview showing many different machines from different builders:
https://www.youtube.com/watch?v=FeWsRngKZyE
Performance in wood
https://www.youtube.com/watch?v=MWYMG1YoNik
Performance in Aluminum
https://www.youtube.com/watch?v=uWJGxjOzcYc
Performance in Steel
https://www.youtube.com/watch?v=SuzuxLPB36k
The PrintNC is mainly aimed at cutting wood and aluminum, but it can also cut the occasional steel piece. It is a router, not a mill, so with its gantry design it is targeted at large flat stock pieces. This does not mean you can't clamp small stock in a vice, but rather that if you know you only want to to machine small parts with the highest accuracy, a knee mill might be a better machine for you. Generally the machine can be parametrized to your needs, so it can be adapted to the size of your stock material or shrinked if you have limited space.
The achieved accuracy with PrintNCs is in the range of 0.1- 0.03 mm. This depends on the machined material, how accurate you tuned the machine and how much time you invest into the single part. The following image tries to set these values into context: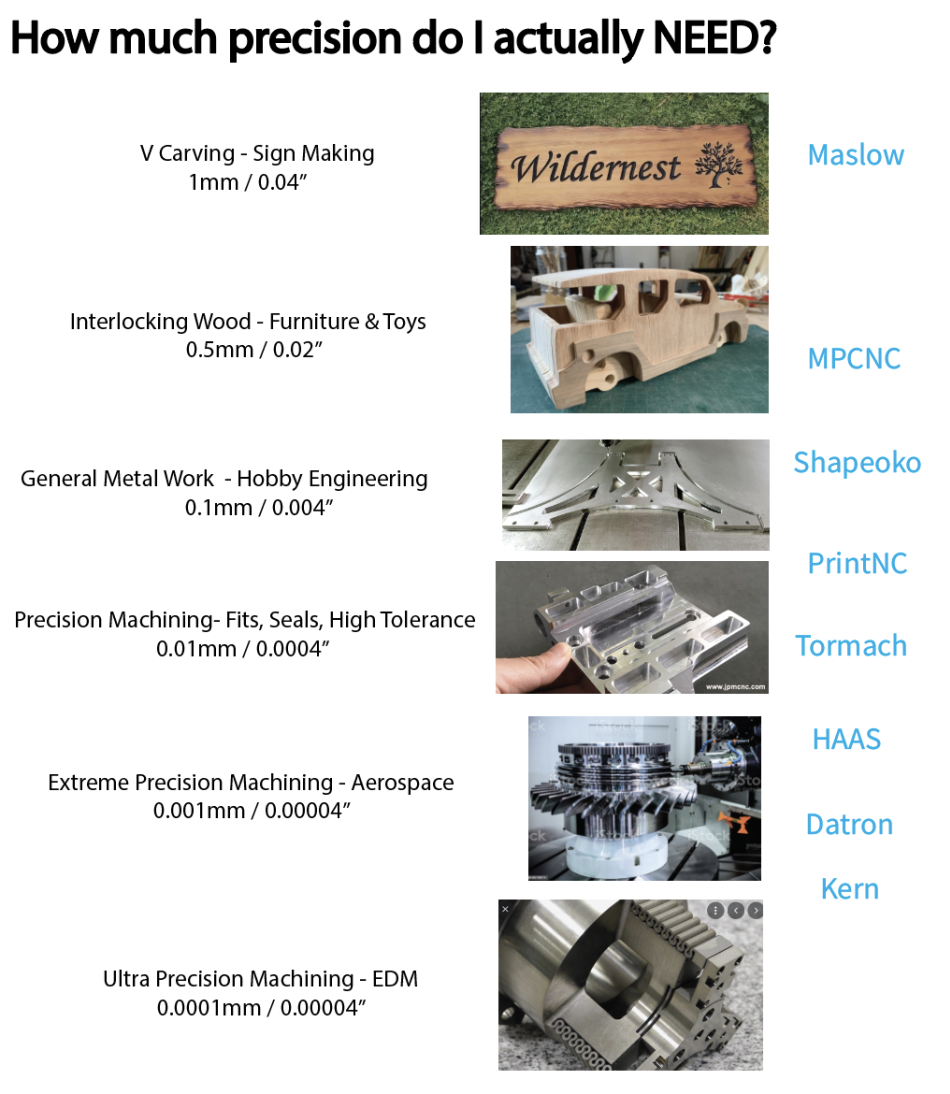 It is difficult to put a general price tag onto the machine. Machines have been built at costs between 1000-2000US$. The actual price depends on your desired build size, the current steel price on your local market, shipping costs and import fees from China and many small build decisions. Do you buy a special paint or use the old one laying around in your garage? Do you buy a shiny new electronics cabinet, or get one second hand? There are many options to save money and many options to spend money, without effecting the quality of the machine
The name PrintNC might create a false image of a machine mainly consisting of plastic parts. In reality, the idea is, to build a CNC machine without the need of having a CNC machine first but only a 3D-printer. But most printed parts are non load bearing and many are not part of the machine at all, like the many printed drilling templates. Some actual load bearing printed parts are a good first part to machine out of aluminum, once the machine is working.
You don't need to have built a CNC machine before, to build your first CNC machine. A great part of the experience of building the PrintNC is the amazing community which can help you out with all your questions. Also the wiki is getting increasingly better. To help you decide, if you are capable of this project, these are some skills you will (need to) acquire during the build:
Basic metalworking, like cutting, drilling, tapping, filing
Basic electronics like routing wires, soldering plugs, wiring an electronics cabinet and buying the right parts to specifications
CAD Modelling in Fusion (only scratching the surface during the build, but useful to actually use the router, together with the CAM process), 3D-printing
Basic knowledge about your chosen controller
The PrintNC is the right machine if...
You should buy/get another machine if...
... you want to machine wood, aluminum and eventually steel
... you only want to machine wood and $1,000 is a too big investment (maybe take a look at the mpcnc)
… you have fun at the building process
... you only want to have a running machine
... you want to save money at the cost of time
... you want to get started fast to earn money with your machine
... you like to have a great community which helps you troubleshooting until your machine works

… you want to know your machine in and out
... you want a warranty and customer support which will make your machine run in case of problems
... your accuracy requirements are in a reasonable hobby range (>0.03mm)
... you need super precise parts