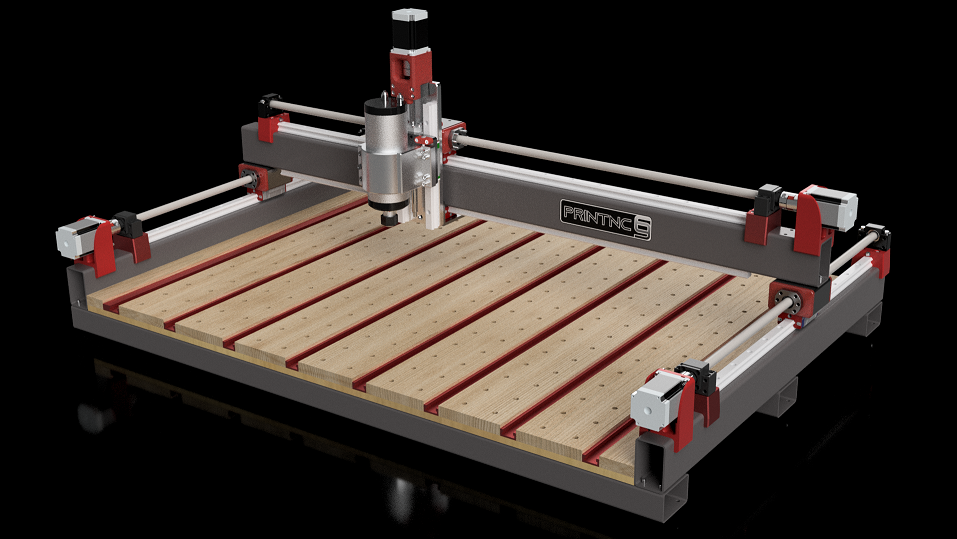 Download Fusion360 3.0 file: https://a360.co/37fPVZ5
This is a major release of the CAD file which is a ground up rebuild of all components - Huge performance increase, all parts contained within a singular file and much greater customization.
Any combination of steel profiles across different sections can be adjusted, rear mounted motor options for joinery work also supported
Work area visualisation and the ability to set the frame dimensions based off desired work area
The basic design and components have not changed - hardware is the same - But now all your printed parts are available in one central file
I am very excited to get this out there as it is the biggest ease of life improvement for new and current builders
There is still more work to do in comings weeks (eg. 2010 ball screw options will get added shortly but the rate of updates and change will be stable from this point on)
As with any "release" there's bound to be a glitch or two. Please share screenshots and how to replicate the issue (which parameters you changed etc) at the discord #bugfix channel.
The files below are meant to be used by people that have already build one of the previous releases of the PrintNC and are in need of older releases.
New builders are advised to use the file above.
The full design for V3 is available here, including the new Z3 design. There may be an issue or two so please report any you find in detail at the discord #bugfix channel.
There's a full rebuild of the design in progress for a V3 release with parametrics for X frame, Y frame, gantry, X rollers and Y rollers able to be individually adjusted. Stay tuned!
As of Nov 18, 2020, the pro kit comes with a ballscrew for Z3 and Z2.1
¶ Z 3.0 beta, featuring a new standardized Z plate that works with metric 50x75, 50x80, 60x80, 50x100mm and imperial 2x3 and 2x4" steel gantries and rollers.
The parameters are stored in the Base Parameters file, so start a new project to save this to your Fusion and it'll save both files to the same place.
Simplified and improved tramming - single bolt tilt adjustment and solid connection between roller, angle and plate
Simplified temporary wood plates for easy DIY, no pockets, designed for wood screws.
Z3.0 Beta - Bugfix Standalone version
The main parametric Fusion files for the PrintNC. Use in conjunction with the separate Z axis model listed below.
¶
Z2.1 - This link is maintained for archival purposes, use the Z3 above for new builds.
v2.1 Z axis, with the same vertical clearance as the 2.0 but improved stability and performance, using additional frame pieces and a ball screw in place of a lead screw.
These files are also available inside the public alpha link below.
BF mount with integrated switch: https://a360.co/2YHpc2H
BK mount with integrated switch: https://a360.co/33qz057
Updated X-Y Motor Mounts: https://a360.co/33chHTE